LATEST: Swing & Momentum Gameplan 9/1
Below you'll find our latest swing ideas and momentum ideas, please remember to do your own DD and have a plan when entering.
** If you missed our previous watchlist, click HERE to review over the names that are STILL IN PLAY. **
Wrapping up the month +$81K in profits.
CLICK HERE JOIN OUR FREE CHATROOM FOR MORE IDEAS
SWING IDEAS 👇 Continued ideas from previous list: SURF, LPCN, GME, REDU, CGIX
NBEV hot looking chart here with a pretty solid investor base - looking for continuation on the trend ($2.10 support) to carry on over highs $2.4+ in coming weeks.
AMC added this name to my swing list today after it is retesting the original breakout level ($5.70/80) - solid R/R here if it tries to bounce.
CFMS broke the daily chart downtrend, potential upside if $0.65 continues to support on any dips in new trend. Don't overstay your welcome.
CAPR high risk play, but chart showed interest to market today and they bought it. Will be watching over the next few days to see if this was a one hit wonder or if it has some power behind it, which I'll join. Room to run towards $8.
MOMENTUM IDEAS 👇 These momentum ideas are daytrades ONLY - don't confuse them with swings.
GNW had trouble in the morning (likely working out sellers from over time) but reclaimed a bit into the afternoon. Will be watching to see if this wants to continue trend > $3.10 line in the sand, if not, don't hang around with this massive float.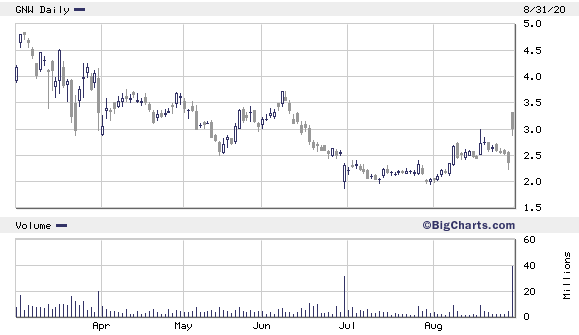 VVPR weak open idea from previous watchlist worked well, although I did not personally trade it. Looking for the SAME play again in case shorts are still being stubborn. Look at today's chart and that's exactly what I'm looking to see, weak open but then trend back. DO NOT go into something like this without a plan, could end badly.
PSV I think this caught a few shorts off guard, every dip was getting soaked up until $1.30+. Only interested in long if $1.25 puts in higher lows and trends. Otherwise avoid.
UAVS NAK, backburner ideas.
CLICK HERE JOIN OUR FREE CHATROOM FOR MORE IDEAS